Franciscan University Students Furbish New Totus Tuus Group Study Room
After a semester studying in Austria, three Franciscan University students—seniors Justine Smykowski, Jacob Schmiesing, and Clement Harrold—wanted to bring some European beauty back to the main Steubenville campus. With thought, research, and fundraising, they transformed a study room in the St. John Paul II Library.
What was once a simple room with table and chairs is now the Totus Tuus Group Study Room, located on the ground floor of the library. It boasts a Baroque-like coffered ceiling, wooden wainscoting, Renaissance and ancient depictions of Our Lady, and chandelier lighting.
With a large wooden table, a leather lounge chair, multiple chalk boards, a white board, and a library collection of reference books, the Totus Tuus Group Study Room is a place for Franciscan University students to find inspiration in their academic pursuits.
"We really wanted something that would promote the academic culture on campus," said Harrold. "We have a beautiful campus, especially out of doors, and now we have a beautiful space to study, as we did in Austria."
Together, the three students raised over $10,000 through social media and other fundraising methods to redecorate the room. The project was part of the students' Center for Leadership senior capstone project.
"What I like about this is that it was initiated by our students," said Father Dave Pivonka, TOR, at the ribbon-cutting ceremony held in April. "They had the vision and worked with our staff to see their vision come to life.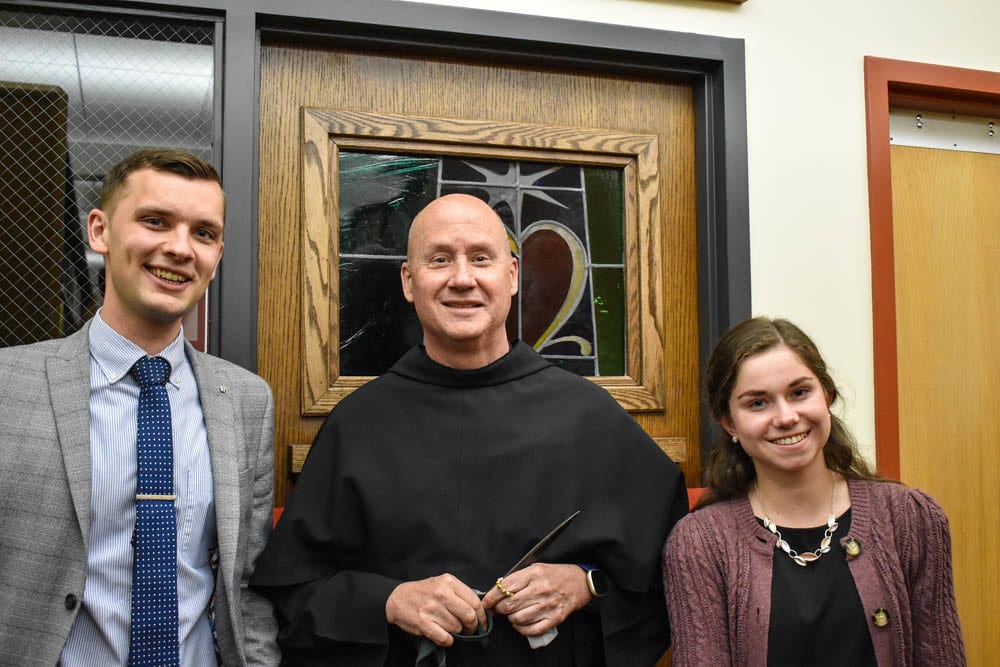 Clement Harrold, senior; Father Dave Pivonka, TOR, president; and Justine Smykowski, senior,
revealed the Totus Tuus Group Study Room in a ribbon-cutting ceremony.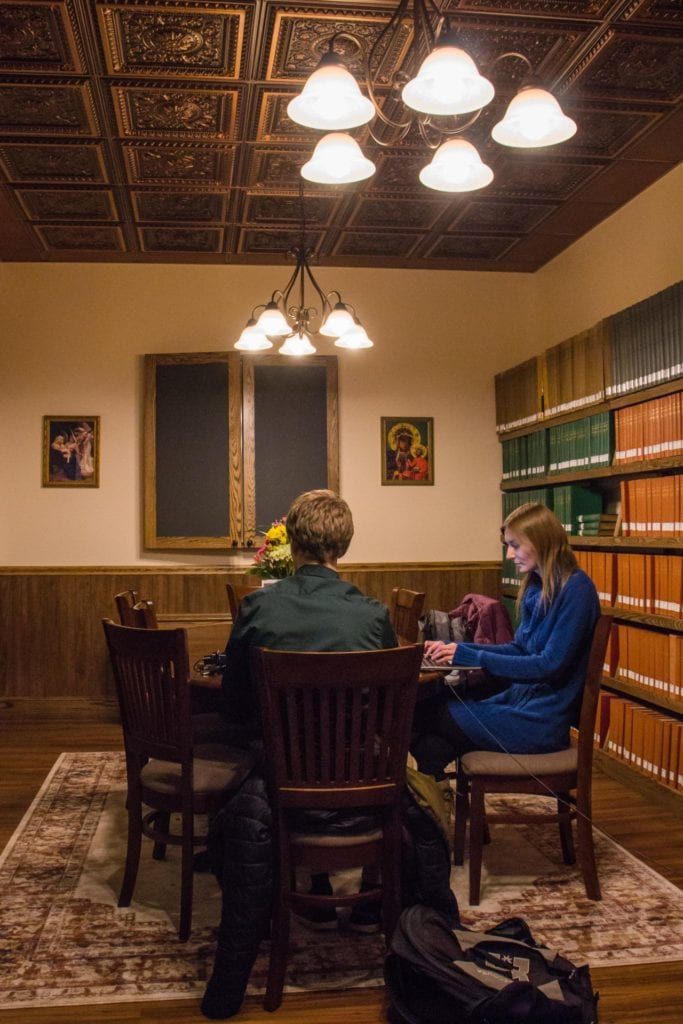 The Totus Tuus Group Study Room is open for all Franciscan University students
to reserve for study, meetings, or group events.
.