$30,000 Ohio Grant Targets Improved Reading Strategies for Steubenville-Area Teachers
Franciscan University Education Department partners with area schools to develop new reading strategies.
STEUBENVILLE, OHIO—The Ohio Deans Compact on Exceptional Children awarded a $30,000 grant to Franciscan University of Steubenville's Education Department for literacy training for Steubenville-area teachers, and faculty and students at Franciscan University.
The grant ends in September and was primarily implemented at Pugliese West Elementary and East Garfield Elementary schools during the 2020-2021 school year.
"The overriding goal was to help all students become better readers by exposing area teachers and future teachers to the latest reading principles and evidence-based practices that incorporate the 'Science of Reading' principles and that have been proven to be so effective among educators," said Dr. Megan Reister, the grant writer and associate professor of special education and early childhood at Franciscan University.
As a result of the grant, participants revised course syllabi in reading and developed a database of effective reading strategies to implement in the classroom and while tutoring.
Helen Casto, a teacher at Pugliese West Elementary School, said her favorite aspect of the project was learning new strategies. "Sometimes, I repeat the same strategies over and over. The variety of strategies I was able to implement helped me engage my students in more meaningful instruction because they were excited to have different activities and information presented in a new way."
One effective reading strategy, called the Story Impression Strategy, involves creating a word story chain of 5 or 10 words, prior to reading the story. A story chain for Goldilocks and the Three Bears, might include Goldilocks, three bears, porridge, "this is just right," and cottage. A paragraph prediction is made of the story based on the story chain. The student and teacher then discover the chain words while reading the story, leading to better comprehension and reading fluency as they compare what happened in the story with their prediction.
As an unexpected off-shoot of the grant, some participants are now enrolled for two years in the Ohio LETRS (Language Essentials for Teachers of Reading and Spelling) professional development program, which takes a multi-sensory approach to building a vocabulary and relies heavily on the Science of Reading philosophy.
Currently, over a dozen educators from Steubenville City Schools, Harrison Hills Elementary, Bishop John King Mussio Elementary, and Franciscan University are taking LETRS training at no charge.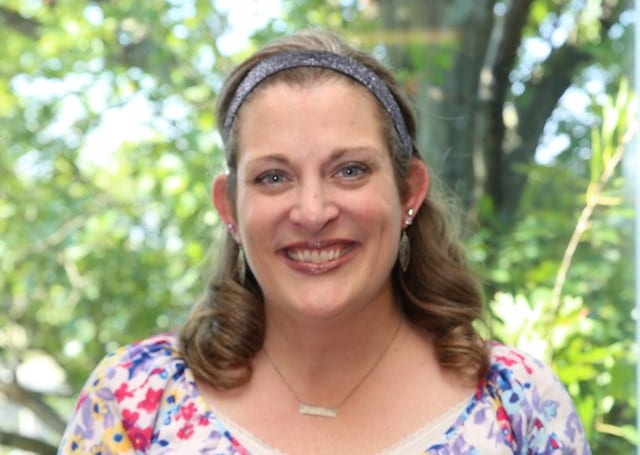 Dr. Megan Reister, education professor and grant writer for Franciscan University's literacy training grant from the Ohio Deans Compact on Exceptional Children.