A Message From the President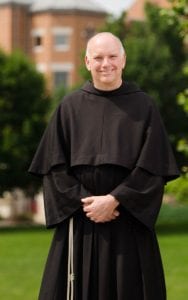 December 20, 2018
Dear Franciscan University Family,
How do we educate and evangelize a culture in crisis? And how do we equip a generation raised in that culture to become intentional disciples of Jesus Christ.
As president of Franciscan University, those are questions I think about every day. They go straight to the heart of our mission and the challenges we currently face.
Recently, Franciscan University has come under fire from critics of our University community who have accused us of compromising our Catholic mission and witness. These critics could not be more wrong.
Today, as always, Franciscan University is committed to forming joyful, intentional disciples who can proclaim Jesus Christ to the world. Today, as always, Franciscan University remains academically excellent, completely faithful to the teaching of the Church, and passionately Catholic. And today, as always, Franciscan University wants to serve God and the Church by educating and raising up a new generation of humble, holy, faithful Catholic leaders equipped to evangelize the culture.
As president of Franciscan University, however, I'm not content to see this University just rest on its laurels. I don't want to simply preserve the legacy entrusted to me. I want to see this University educate the growing number of men and women that God wants to send us.  Now, more than ever, our world needs courageous, faithful disciples willing to stand up and proclaim the truth with love. She needs witnesses who can live the Gospel of Jesus Christ and are committed to the Gospel of Life. And she needs leaders who care more about the opinion of God than the opinions of men.
Over the past five decades, Franciscan University arguably has done more to build up the Catholic Church in America than any other school, big or small. It's true: Franciscan University is growing. It's expanding. It's attempting to do more for God and the Church and for a culture desperately in need of Jesus Christ. And under my watch—and with your prayers—it always will.
Thank you for your prayers for our work here, and know that the friars, students, faculty, and staff remember you daily in our prayers.
In Christ and St. Francis,
Father Sean O. Sheridan, TOR
President
[rhc_upcoming_events template='widget_upcoming_events_a.php' number="2″ date_format="dddd MMMM d, yyyy" feed="0″ showimage='1′ words='20' date_compare=">" date="-1000000 days" order="DSC" post_type='events' taxonomy="calendar" terms="news"]