Alumni Return for Vocations Fair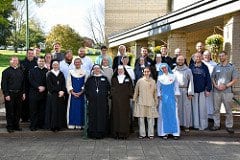 STEUBENVILLE, OH – Among the 60 representatives from religious communities and dioceses at Franciscan University's annual Religious Vocations Awareness Day on October 14 were more than two dozen alumni. Just a few years ago, many of them were standing in the shoes of the students they connected with at the fair.
"It was actually at the Vocations Fair nine years ago that I first met the Nashville Dominicans," said Sister Agnes Clare Girard, OP '09, of her community. "I heard one of the sisters talking about how she knew her heart was created for God alone, and I went to the Portiuncula and started to cry, thinking about how much I understood that. It was a seed to my vocation."
Franciscan's Vocations Awareness Fair is considered the largest of its kind in the United States. For one day in October, two basketball courts in the University's Finnegan Fieldhouse take on the atmosphere of a big-city convention, as students meet with vocation directors and stroll through four rows of booths and displays from various religious communities and dioceses.
While studying abroad at Franciscan's Gaming, Austria, site, and serving as a sacristan, Sister Philomena Folse '14, a novice with the Franciscan Sisters of the Renewal, first felt a call to religious life. "Being a sacristan allowed my close contact with Our Lord in the Blessed Sacrament. It was there, encountering Jesus in the Eucharist, when the desire was first on my heart to respond to him."
Franciscan's Priestly Discernment Program (PDP), which sponsors the annual Vocations Fair, is often a precursor to the seminary or religious life for young men. Father Andrew L. Young of the Diocese of Covington, Kentucky, who attended Franciscan from 2007-2008, said the PDP "allowed me to learn the habit and structure of prayer, which prepared me well for seminary."
Jonathan Mundell '09, a lay consecrated with the Youth Apostles, said he looked up to the older students in the PDP and the priests who guided the program.
The unique faith community at Franciscan University relies heavily on the fraternity found in faith households, which cultivate lives of prayer. Father Paul Kostka '06, a priest with the Servants of Christ Jesus in Denver, knows just how important households can be in faith formation. Five men from his graduating class in Ad Majorem Dei Gloriam Household have entered religious life. And Brother Dave Brokke, SOLT '09 said it was household life that "gave me a desire to live in community life. I experienced a deep friendship in Christ with my brothers in Knights of the Holy Queen."
All of the alumni who represented their respective religious institutions at the fair expressed gratitude for their formation at Franciscan University. As Father Sebastian Kajko, CFR '03, notes, "You can't build a house without a foundation! Franciscan was that foundation for me. Here, I found a centering on truth and learned what it means to be human, Catholic, and a true man of God."
[rhc_upcoming_events template='widget_upcoming_events_a.php' number="2″ date_format="dddd MMMM d, yyyy" feed="0″ showimage='1′ words='20' date_compare=">" date="-1000000 days" order="DSC" post_type='events' taxonomy="calendar" terms="news"]