Commencement 2016 Sends Forth 665 Graduates
Honorary Degrees Awarded to Cardinal Seán Patrick O'Malley; Father Terence Henry, TOR; Dr. Laura Meeks; and Paul ``Mickey`` Pohl, JD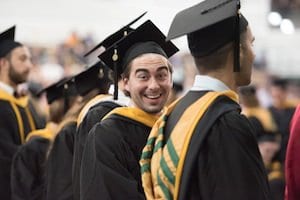 STEUBENVILLE, OH—Franciscan University of Steubenville held its 68th annual commencement exercises, sending forth 665 graduates, with separate ceremonies held to honor science and arts graduates. Both took place on May 14 in Finnegan Fieldhouse.
His Eminence Seán Patrick Cardinal O'Malley, OFM Cap., archbishop of Boston, received an honorary doctorate of sacred theology at the May 13 Baccalaureate Mass for his Christ-like leadership, his pro-life work with the United States Conference of Catholic Bishops Committee on Pro-Life Activities, and his service to Pope Francis.
During his homily, Cardinal O'Malley praised Franciscan University for its alumni's work in the Church and thanked its current and former presidents for making it a "center of spirituality, catechesis, vocations, evangelization, community; a truly passionately Catholic university."
"Today is Friday the 13th. Some people think that is an unlucky day, but … it is the luckiest day of my life because, for me, that is the day that I graduated from Steubenville's Franciscan University," he said.
Cardinal O'Malley spoke about Christ's disciples as students, particularly St. Peter. He noted three questions that Christ asked in the Gospels and how it was like a final exam on his teachings: Who do you say that I am? Do you want to leave me, too? Do you love me? Cardinal O'Malley encouraged graduates to use Peter's answers: You are the Christ. To whom else should we go. Yes, Lord, you know that I do.
"The correct answers need to be on your heart as well as your lips, " he said. "Here at Franciscan University you have such an extraordinary opportunity to deepen your life of faith hope and love."
Before the final blessing Bishop Jeffery Monforton of the Diocese Steubenville thanked Cardinal O'Malley for his service to the Church. He also congratulated the Class of 2016 and said, "I'm very grateful this day that (Cardinal O'Malley) has the opportunity to experience first hand the great joy and the love that you share . . . that certainly assists me in my ministry and our beloved diocese."
Father Terence Henry, TOR, president of Franciscan University from 2000-2013, received an honorary doctorate of educational leadership at the May 14 science commencement ceremony.
Father Henry began his address with a quote from his favorite Catholic apologist and author G.K. Chesterton on the value of education.
He then used an analogy of soldiers standing shoulder to shoulder facing enemy fire and said they would run if they "felt only air" and their brother was not besides them.
"As long as there is a follower of Christ on the front line defending the family, defending marriage, defending the unborn, defending the elderly, defending the sick . . . I guarantee that they will never feel air because a Franciscan University graduate will be on their right and their left."
Dr. Laura M. Meeks, the former president of Eastern Gateway Community College in Steubenville, delivered the keynote address at the science commencement ceremony and received an honorary doctorate of educational leadership for her work in higher education and her contributions to the local community.
Meeks said, "I'm going to make a case . . . that this class is the most special class of Franciscan University."
First, she noted that the class was graduating during the Year of Mercy, mentioning the Holy Door located in Christ the King Chapel. She also noted that the graduates are graduating the same year that Pope Francis announced a canonization date for Mother Teresa, who spoke at the commencement for the College of Steubenville in 1976. Thirdly, she said the class was special because it's the same year that Pope Francis visited America and the year that Mother Angelica died. Meeks encouraged graduates to use Mother Angelica as a model of work and prayer.
"You must pray and put your life in God's hand," she said. "Your rock is Jesus. You know what Jesus would do, so I say do it."
Paul M. (Mickey) Pohl, JD, former member of the University's Board of Trustees, spoke at the arts commencement ceremony in the afternoon and received an honorary doctorate of Christian ethics for his work defending religious freedom.
Pohl leads a team of attorneys with Jones Day law firm representing more than 50 Catholic organizations, including Franciscan University, in religious freedom lawsuits filed in response to the U.S. Department of Health and Human Services contraceptive mandate.
Pohl spoke at length about religious freedom as it was defined by America's Founding Fathers and how it is being threatened.
"There is a war going on out there in which we are thrust whether we like it or not. There is a war being fought for your soul and there is a war being fought for the soul of our nation," he said.
He offered three pieces of advice directly from the Bible, which he encouraged the graduates to heed: From the prophet Samuel, "Here I am Lord, your servant is listening"; from the Blessed Mother, "Do whatever he tells you"; from Christ, "Be not afraid."
As a gift to their alma mater, the Class of 2016 made a donation to the Spirit of St. Francis Scholarship. Each year this four-year scholarship is awarded to three incoming freshmen who demonstrate a high level of financial need and who exemplify the mission of Franciscan University.
This year's top 10 home states for the Class of 2016 are Ohio, California, Pennsylvania, Virginia, Illinois, Texas, New York, Michigan, Maryland, and West Virginia. The Class of 2016's top 10 majors are theology, business (with six majors within this department), nursing, education, psychology, catechetics, communication arts, biology, English, and philosophy.
Several faculty members formally received promotions during the ceremonies. They are Dr. Eric Haenni, associate professor, Department of Biology; Dr. William Newton, professor, Department of Theology; Dr. Alberto Descalzo, associate professor, Department of Modern Languages and Literature; Dr. Donald Kissinger, associate professor, Department of Clinical Mental Health Counseling; Dr. Susan Poyo, assistant professor, Department of Education.
View the Commencement Events:
[rhc_upcoming_events template='widget_upcoming_events_a.php' number="2″ date_format="dddd MMMM d, yyyy" feed="0″ showimage='1′ words='20' date_compare=">" date="-1000000 days" order="DSC" post_type='events' taxonomy="calendar" terms="news"]