Franciscan University Announces Dr. Daniel Dentino as Next Vice President of Student Life
Alumnus Brings Over 20 Years of Student Affairs Experience to His Alma Mater
STEUBENVILLE, OHIO—Franciscan University of Steubenville today announced Dr. Daniel Dentino as the next vice president of Student Life. He begins work as Franciscan's chief student affairs officer on June 21 as David Schmiesing leaves that role to become the University's first dean for Personal Vocation.
Franciscan University President Father Dave Pivonka, TOR, said Dentino's extensive Catholic higher education experience will be invaluable to the President's Council.
"Dr. Dentino has more than two decades of experience in student life administration at several different Catholic colleges and universities and has a proven track record in fostering a campus environment in which students can flourish," Father Pivonka said. "As a Franciscan alumnus himself, he has an insider view and appreciation for the commitment to academic excellence, ongoing conversion, integration of faith and reason, and call to joyful discipleship that make our educational mission and student culture unique. I look forward to working with him in this role."
Dentino, who received his undergraduate degree from Franciscan, returns to his alma mater from Canisius College where he worked as vice president for Student Affairs and dean of Students. During his tenure, he developed a new proactive retention strategy; initiated several new engagement opportunities for students, faculty, staff, and coaches; partnered with Academic Affairs on a new First Year Experience; revised crisis and emergency management protocols; and expanded intramural and club athletics offerings.
Since 2001, Dentino's professional career has focused on serving college students, and he has held leadership positions in student life at Bethany College (Kansas), University of Saint Mary (Kansas), Wheeling Jesuit University (West Virginia), and Ave Maria University (Florida), where he developed the startup's campus faith, academic, athletic, and social culture.
"My passion is helping students become the best version of themselves possible," Dentino said. "College is not only about what you will be when you graduate but also about who you will become as a person. As most of what is best in my life has been the direct consequence of my experience as a student at Franciscan University, I am deeply grateful and excited to help today's Franciscan students receive the truly transformative education I did."
As Franciscan's vice president of Student Life, Dentino will provide overall direction and leadership of the Student Life programs at Franciscan University, which encompass residence life, evangelization and household life, athletics, Wellness Center, student activities and programming, dining services, international student services, orientation, and campus events. He will report to the president of the University, serve on the University's leadership team, and participate in institutional strategic planning.
In addition to his bachelor's in theology from Franciscan University, Dentino holds a master's in religious studies from Providence College, and a PhD in systematic theology from Duquesne University, and has taught university-level theology and philosophy courses for more than 20 years.
Dentino takes the reins from David Schmiesing, who served as vice president of Student Life for 15 years and will become the founding dean of the Office for Personal Vocation, reporting to Father Jonathan St. André, TOR, vice president of Franciscan Life. Schmiesing will direct the University's overall efforts related to personal vocation and will supervise the Career Services Department, Missionary Outreach programs, SWOP, and student leadership development programs including the Center for Leadership.
Originally from Illinois, Dentino is married to Mary (Helgeson), a Franciscan University graduate of the Class of 2002. The couple has four children.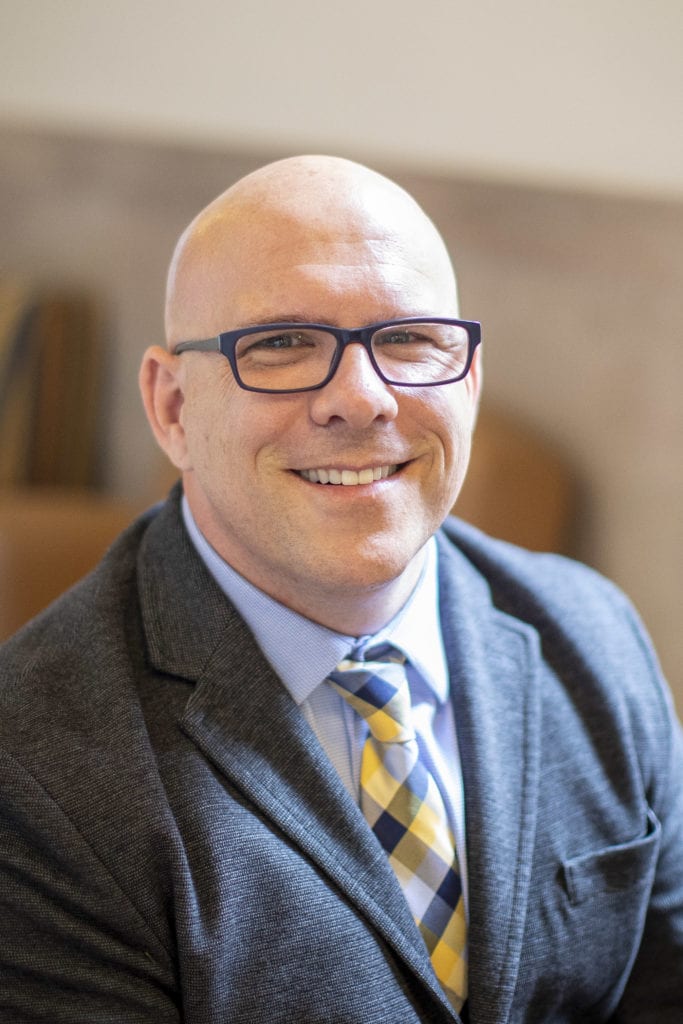 Dr. Daniel Dentino, vice president of Student Life at Franciscan University of Steubenville.