Franciscan University Commencement Ceremonies Send Forth 756 Graduates to "Walk by Faith"
Largest graduating class in Franciscan University's history celebrates outdoor graduation weekend.
STEUBENVILLE, OHIO—Franciscan University of Steubenville celebrated its 73rd commencement exercises May 14-15 by bestowing 756 diplomas, making the Class of 2021 the largest in the school's history.
Several factors contributed to the record count, including the first graduates in the Master of Theological Science, Master of Arts in Theological Studies, and Master of Catholic Leadership programs. Other factors include the steady growth of online programs, a large class in the Clinical Mental Health Counseling Program, and students who postponed graduation in 2020 due to the COVID-19 pandemic.
Before the May 14 Baccalaureate Mass, Archbishop Bashar Matti Warda, CSsR, of Erbil, Iraq, received an honorary doctorate of humane letters for his dedication to preaching the Gospel and nourishing the faith amid the heightened persecution, terrorism, and unrest in Iraq in recent decades.
"Archbishop Warda has been a voice for the thousands of Christian families who have seen their homes, villages, and churches destroyed and sought refuge in Erbil," said Franciscan University President Father Dave Pivonka, TOR, reading from the citation before presenting the archbishop with his diploma. "He's helped care for their most basic needs . . . He's paved the way to a brighter future through promoting education and founding schools, including the Catholic University in Erbil," which includes cultural exchanges and the development of programs with Franciscan University.
Deflecting attention from himself, Archbishop Warda focused his homily on telling the Class of 2021 to live Christ-centered lives.
"You will now enter a world in which you will be faced with difficult decisions of your own just like those faced by Peter and the first Apostles. How will you make these decisions and how will you become a leader? First, keep Christ close at all times. Ask yourself if what you are doing is right in the sight of God."
He offered as role models for the graduates the young people of Iraq, "not much older than yourselves," who turned to their faith in the face of the 2014 Iraqi genocide at the hands of ISIS.
"Should they flee to safety? Shall they remain in their country and bear witness? At the time of greatest trial, they placed their faith fully in Christ and surrounded themselves with others who were committed in the same way. In placing their trust in Christ and remaining in community with their brothers and sisters in Christ they found their path and have now become leaders."
"Love like Jesus loved," he exhorted. "Leave behind that which makes us selfish, the world of me, mine, and myself, and all of our possessive needs. … Instead, serve the poor, the needy, the lonely, the ones in desperate need."
To comply with Ohio COVID-19 restrictions while hosting the maximum number of guests, all graduation events were held outdoors at Vaccaro Baseball Field, with a stage set up in deep centerfield and hundreds of chairs spread across the outfield and infield for faculty, graduates, family, and friends.
Former U.S. Secretary of Labor Eugene Scalia received an honorary doctorate of public administration for his distinguished service to our country. He delivered the commencement address at both the science and arts ceremonies, held Saturday May 15.
Sounding a note of welcome optimism for the graduates seated before him, he pointed out there are currently over 8 million job openings in the United States—the most ever recorded. But challenges lie ahead, too, he said.
"Our nation is more secular than a generation or two ago—church attendance is lower, and the percentage of Americans who see themselves as religious is lower. Popular culture is increasingly at odds with traditional religious teachings on morals and behavior."
As a counterweight to those trends and applying new meaning to the word "privileged," he said, "You're privileged to have grown up in an environment with an appreciation for faith—that's no doubt part of what brought you to Steubenville. You're privileged to be embraced by the Catholic Church, the institution we believe to have been founded by Christ for the salvation of souls."
Scalia quoted from a commencement address given by his father, the late U.S. Supreme Court Justice Antonin Scalia. "He observed that it's the fate of Christians to hold ideas that at times cause them to be seen as unsophisticated—foolish. But, my father would say, quoting St. Paul, 'We are fools for Christ's sake.' . . .  and that being the case, we must have 'the courage to suffer the contempt of the sophisticated world.' In the world we live today, you will need the courage at times to look the fool and to 'suffer the contempt of the sophisticated world,' like millennia of Christians before. Don't shrink from that."
He concluded by recommending St. Francis of Assisi as a role model, a saint whose life "stands for love for all living creatures; it stands for peace; it stands for the deepest faith and closest relationships with God, including a great devotion to the Eucharist."
Franciscan University President Father Dave Pivonka, TOR, thanked the graduates for pushing through the challenges brought on by the pandemic and making it to graduation day, which he called, "the best day of my life," to rousing cheers.
He presented three takeaways based on the school theme for this academic year, "Walk by Faith."
#1. Don't quit walking. "The only way, brothers and sisters, that you will fail and lose in this race is if you quit walking. Always turn to the Lord who will lead you and guide you in the next step."
#2.  The crowd rarely knows where they're going. "Scripture reminds us that the road you're going to walk on is narrow and it's difficult. But it's also the one that leads to life—life forever."
#3. Walk with Christ. "Ultimately he will introduce you to his Father, and as I stated the first day I was first chosen president, my job as president is not done until you hear him say, 'Well done, good and faithful servant. Enter into joy today.'"
Commencement ceremonies also included an invocation by Father Jonathan St. André, TOR, vice president of Franciscan Life; a welcome by Father Joseph Lehman, TOR, chairman of the Board of Trustees; and a benediction by Father Luke Robertson, TOR, local minister of Holy Spirit Friary.
For complete videos of each event, the commencement program, and Senior Awards Ceremony, go to the Franciscan University Commencement Events webpage.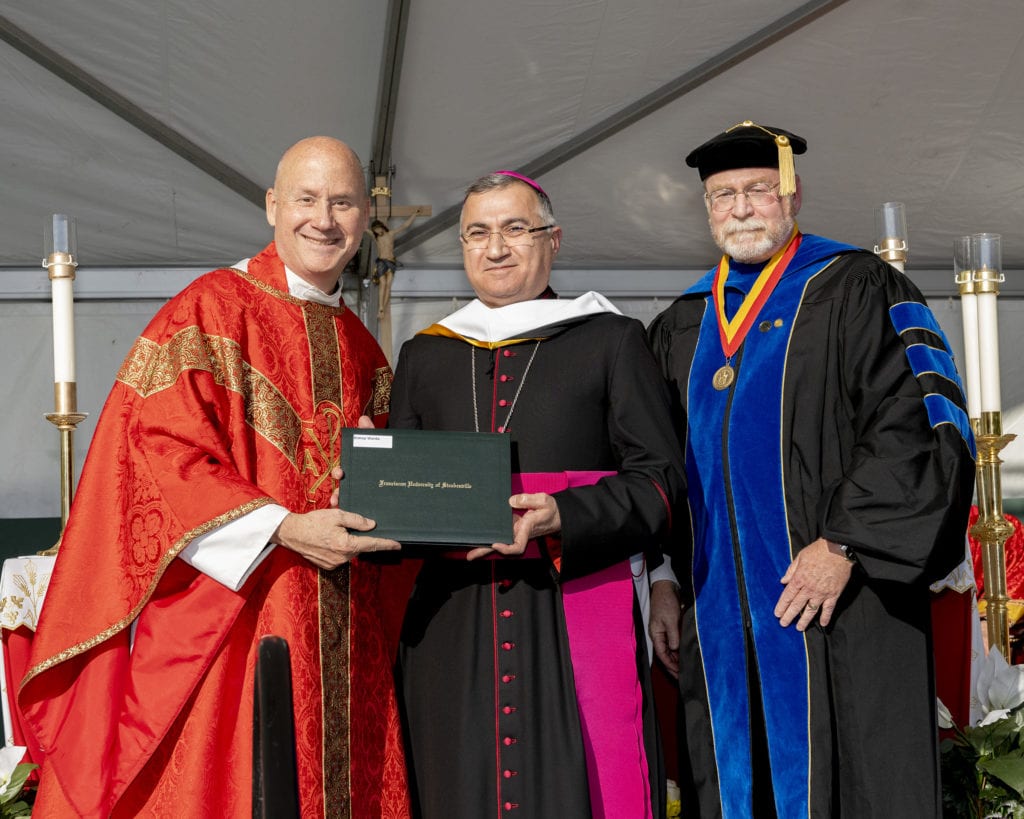 Father Dave Pivonka, TOR, president of Franciscan University (left), and Dr. Daniel Kempton,
Franciscan University vice president for Academic Affairs (right), present Archbishop Bashar Matti Warda, CCsR, with his honorary doctorate of humane letters.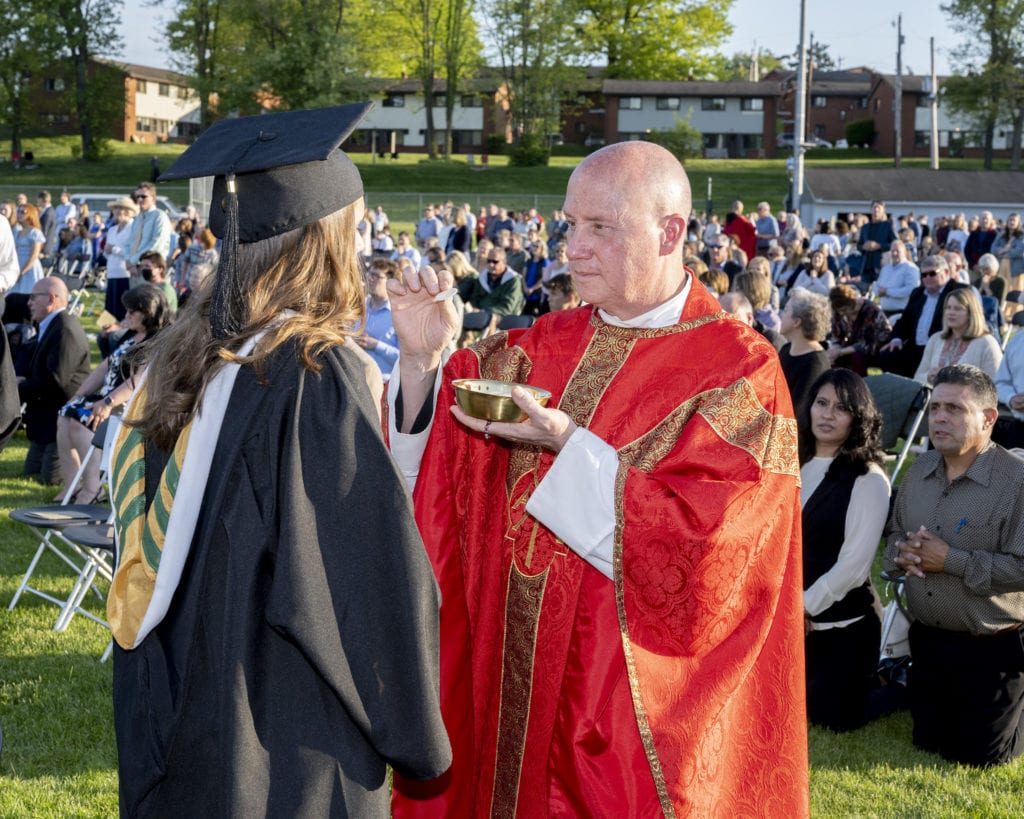 Father Dave Pivonka, TOR, distributes communion at the Baccalaureate Mass.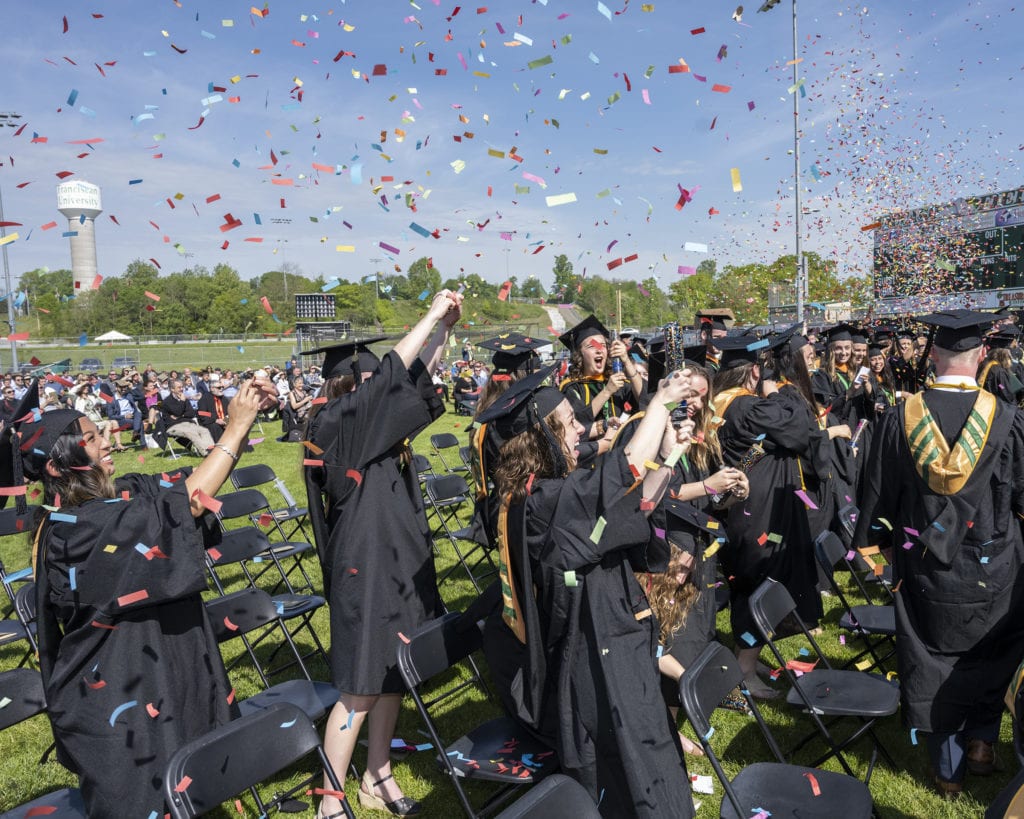 Graduates of Franciscan University's Bachelor of Science in Nursing Program celebrate being called to the stage to receive their diplomas.
.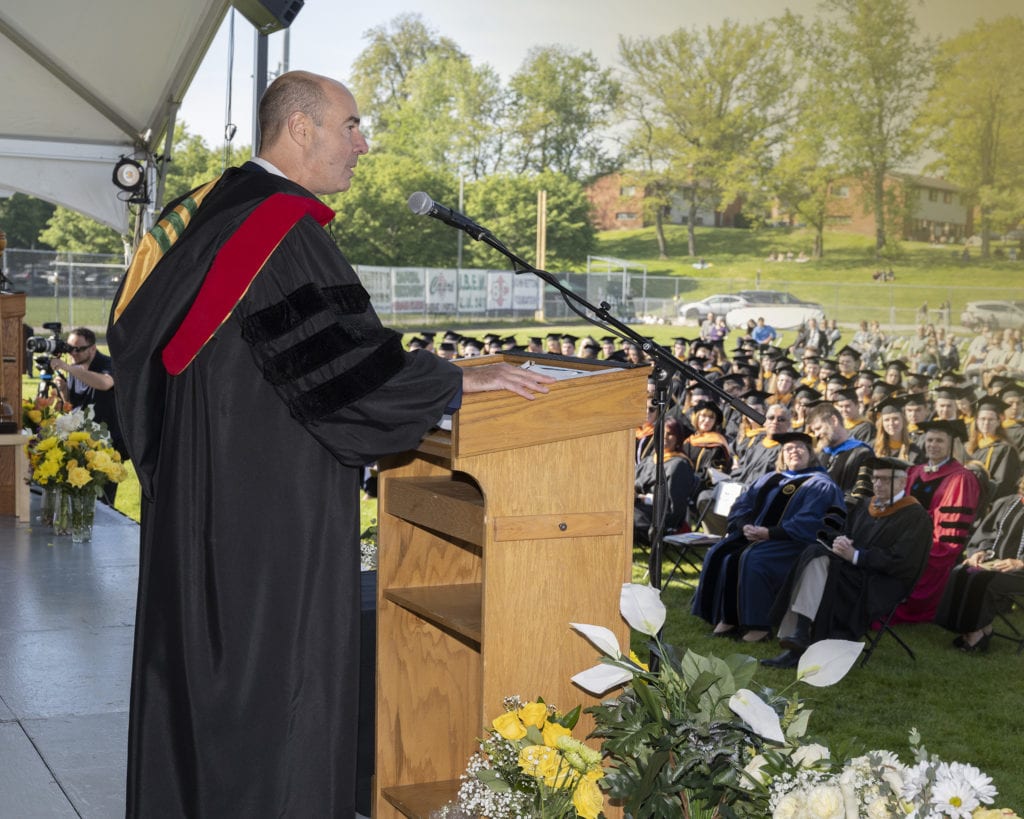 Former U.S. Secretary of Labor Eugene Scalia delivered the commencement address at both the science and arts ceremonies,
held Saturday May 15 at Franciscan University of Steubenville.
.