Franciscan University Education Professor Receives iNACOL Award
Dr. Susan Poyo recognized for her research in online learning.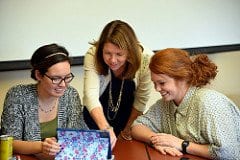 STEUBENVILLE, OH –A Franciscan University of Steubenville education professor received the 2016 iNACOL Research Award for her research on preparing teachers and students for online learning environments.
Dr. Susan Poyo, assistant professor of education at Franciscan University, received the award at an October 27 ceremony during the annual meeting of the International Association for K-12 Online Learning (iNACOL).
The award recognizes researchers whose work demonstrates breakthroughs that promote excellence in online learning and teaching. "We need to equip our future teachers to reach beyond only the students who thrive in a traditional brick and mortar school," said Poyo. "As educators, we have to acknowledge the changing classroom."
Poyo completed the research for her doctoral dissertation, "Transforming Traditional Practices of Teacher Preparation to Meet Changing Needs of Digital Learners: A First Step Intervention by Assessing and Addressing Needs of Pre-service Teachers in a Dual Learning Environment."
Her research focused on methods to adequately prepare K-12 teachers to meet the changing needs of digital learners.
As a part of Poyo's research, education majors at Franciscan University participated in a two-week online classroom experience.
"I hoped to boost their knowledge, skills, and attitudes and dispel common misconceptions about teaching online," Poyo said. "After the students engaged in this module, they held more positive attitudes about online learning."
That two-week online learning experience was a precursor to "Preparing Teachers for Virtual Contexts," a class now required for early education majors, which Poyo developed. Students in the course partner with virtual cooperating teachers at Buckeye Online School for Success to learn the skills to teach online.
"I am humbled," said Poyo of the award. "It is flattering that iNACOL would see the value in research done for pre-service teachers, preparing them to be excellent and effective online teachers. There are some graduate programs that offer a certification in online teaching, but very few offer that on the undergraduate level."
Poyo accepted the award at the annual iNACOL Blended and Online Learning Symposium held in San Antonio, Texas.
[rhc_upcoming_events template='widget_upcoming_events_a.php' number="2″ date_format="dddd MMMM d, yyyy" feed="0″ showimage='1′ words='20' date_compare=">" date="-1000000 days" order="DSC" post_type='events' taxonomy="calendar" terms="news"]