Franciscan University Professor Wins Third Place in International Voice Competition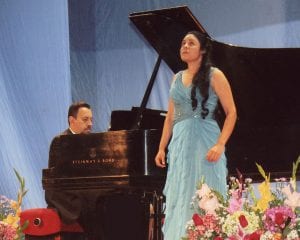 STEUBENVILLE, OHIO—Franciscan University of Steubenville sacred music voice professor Dr. Jessica Ewell took third place in the prestigious Concurso Internacional de Canto Lirico voice competition held November 2-10 in Trujillo, Peru.
Following preliminary rounds in which more than 150 singers competed from Korea, Russia, Spain, Columbia, Peru, and other countries, 42 singers were invited to Peru. Ewell was the only representative from the United States. Only 25 singers competed in the semifinals in which Ewell performed an aria in the Act I finale of the opera La Traviata by Giuseppe Verdi.
In the final round, she sang "The Bell Song" from Lakme by Leo Delibes and "Una Voce Poco Fa" from the Barber of Seville by Gioachino Rossini. Ewell chose these songs to display her range of vocal skills.
"It is better to choose a character you can connect with and pick a song in which you can express yourself or the character with conviction," said Ewell.
After the formal competition, the finalists performed at a November 10 gala concert with the Symphony Orchestra of Trujillo. With her third place finish, Ewell also earned the opportunity to perform a solo concert in New Orleans, sometime in 2018.
"I think it's important for students to have a teacher who is active in the field and can demonstrate skills in real life situations," said Ewell. "Also, by competing and performing, I can attain valuable insights to use in my teaching. The teaching helps the performing, and the performing helps the teaching."
Ewell has taught voice, music theory, and other courses at Franciscan University since 2013. Her Survey of Sacred and Religious Music course teaches students how theological and philosophical truths can be revealed through music. Ewell holds a doctorate in musical arts from The Catholic University of America and a master of music in vocal performance from New England Conservatory of Music.
[rhc_upcoming_events template='widget_upcoming_events_a.php' number="2″ date_format="dddd MMMM d, yyyy" feed="0″ showimage='1′ words='20' date_compare=">" date="-1000000 days" order="DSC" post_type='events' taxonomy="calendar" terms="news"]