New Faculty and Staff Profess Faithfulness to the Church
Oath of Fidelity administered at Franciscan University continuously since 1989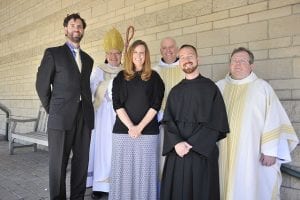 STEUBENVILLE, OH—"In my words and in my actions, I shall always reserve communion with the Catholic Church," pledged four of Franciscan University's new faculty and staff as they placed their hands on the Book of the Gospels and took the Oath of Fidelity during Mass on Saturday, August 22, of Franciscan University's Orientation Weekend.
New Franciscan theology faculty, priests, and other appropriate personnel have publicly promised to remain faithful to the teaching authority of the Church since 1989, when the Sacred Congregation for the Doctrine of the Faith issued a decree for Catholic colleges and universities. This decree required those directly connected with teaching Catholic doctrine to profess their adherence to the Magisterium. Franciscan University was the first U.S. Catholic university to respond to the decree.
---
---
As part of their Orientation Weekend, 640 new students and their families witnessed Dr. Alexander Plato, assistant professor of philosophy; Father John Shanahan, TOR, local minister of Holy Spirit Friary and pastoral counselor; Kimberly Sponseller, executive director of Marketing and Communications; and Brother Jason Wooleyhan, TOR, pastoral associate for Evangelization, solemnly declare their faithfulness to the Magisterium.
The oath was administered by the Most Reverend Jeffrey M. Monforton, bishop of the Diocese of Steubenville.
"Our faith is never meant to be taken lightly," Bishop Monforton said in his homily preceding the administration of the oath. "I'm grateful to say that here at Franciscan University, you will hear and see, time and time again, that our faith is first. Jesus is the center of our lives."
In his homily, the bishop urged students to trust that God knows what he is doing with their lives and to remain faithful to him.
After Mass, Plato reflected on the significance of taking the oath as a philosophy professor. "In this day and age, it's important that we have faithful Catholics teaching in any discipline," he said. "I don't teach dogma, but I want to bring students to the truth using the methods of philosophy so that they can embrace the truth for themselves. I'm using philosophy for its ancient, classical purpose—to love wisdom. And if God is wisdom, then ultimately the end point of philosophy is the love of God."
[rhc_upcoming_events template='widget_upcoming_events_a.php' number="2″ date_format="dddd MMMM d, yyyy" feed="0″ showimage='1′ words='20' date_compare=">" date="-1000000 days" order="DSC" post_type='events' taxonomy="calendar" terms="news"]