Portiuncula Re-designated as an Indulgence Site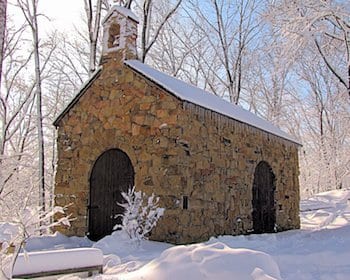 STEUBENVILLE, OH— The tiny Portiuncula Chapel at Franciscan University of Steubenville has been re-designated by the Vatican as a place where the faithful can receive a plenary indulgence—an elimination of the temporal punishment due to sin.
The special designation comes in the form of a decree originally issued by the Vatican office of the Apostolic Penitentiary in February 2009 for seven years. In light of the spiritual blessings derived from the indulgence by thousands of students, faculty, staff, and visitors, Franciscan University President, Father Sean O. Sheridan, TOR, and University Chaplain, Father Shawn Roberson, TOR, requested and were granted an extension for another seven years.
According to the decree, the indulgence may be obtained at any of the following times during the year: August 2, the feast of Our Lady of the Angels of the Portiuncula; October 4, the feast of St. Francis of Assisi; January 22, the dedication of the Tomb of the Unborn Child located next to the Portiuncula; on any day during the year of a person's choosing, or while completing a "holy pilgrimage" to the Portiuncula with a group.
Completed in 1987, the Portiuncula Chapel, or "Port" as it is called by students, is a replica of one of the first churches near Assisi repaired by St. Francis after Jesus commissioned him to "Go, rebuild my Church." During academic semesters, many students spend time in the Portiuncula for eucharistic adoration, which is offered 24 hours a day, seven days a week.
The University welcomes visitors from near and far, including some 10,000 summer conference guests annually, to come to the Portiuncula to seek a plenary indulgence.
Unlike a partial indulgence, which reduces time in purgatory, the plenary indulgence grants the complete remission of the temporal punishment due to sin, so that no further expiation is required in purgatory.
According to the decree, those who desire to gain the plenary indulgence should "devoutly" visit the Portiuncula Chapel, where they pray for the intentions of the Holy Father including the Our Father and the Creed. In addition, it is necessary that the Church's ordinary conditions for receiving a plenary indulgence be met: Individuals must have the interior disposition of complete detachment from sin; have made a sacramental confession; and have received the Holy Eucharist. These must be completed within a week to 10 days before or after the visit to the Portiuncula.
The plenary indulgence can be obtained for the person completing these requirements or may be applied to the souls of the faithful departed.
The Portiuncula is one of two sites at Franciscan University where pilgrims can obtain indulgences—the other being Christ the King Chapel, which has been designated during the Jubilee Year of Mercy as a Holy Door site in the Diocese of Steubenville. The door—the main interior door of Christ the King Chapel—opened December 8, 2015, and will remain open until the Year of Mercy concludes on November 20, 2016.
[rhc_upcoming_events template='widget_upcoming_events_a.php' number="2″ date_format="dddd MMMM d, yyyy" feed="0″ showimage='1′ words='20' date_compare=">" date="-1000000 days" order="DSC" post_type='events' taxonomy="calendar" terms="news"]