Speakers to Grads: Stand Up for Truth
Franciscan University Sends Forth 660 Graduates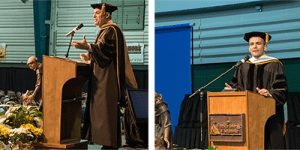 STEUBENVILLE, OHIO—With the Catholic Church's celebration of the centennial of our Lady of Fatima on the minds of many in attendance, Franciscan University of Steubenville sent forth 660 graduates during two separate ceremonies as part of its 69th annual commencement exercises. Both the science and arts ceremonies took place in Finnegan Fieldhouse on May 13.
Most Reverend David A. Zubik, bishop of Pittsburgh, received an honorary doctorate of Christian ethics at the May 12 Baccalaureate Mass for his defense of religious liberty and fidelity as shepherd of the Diocese of Pittsburgh.
During his homily, Bishop Zubik implored graduates to bear witness to Jesus Christ in the Greek sense of the word—martus—taking a page from Mary's faithful obedience to God.
"I should like to dare you, one and all, to be witnesses of Jesus Christ in the Greek sense—to be martyrs for the cause of the dear Jesus," said Bishop Zubik. "And I should like to begin by challenging you to do that by taking serious consideration about the woman who becomes the centerpiece of our prayer here tonight."
Bishop Zubik called the lesson of Mary the "perfect example" in being a witness, since her life was filled with countless and oftentimes unexpected challenges from God. Still, she bore each with faithfulness, as the graduates should do.
"When you receive your diploma, be so excited about taking the message of Jesus Christ that you will never let anything in the journey cause you to pause," he said. "Like Mary, be a witness, be a martyr to the life-giving opportunities that you have to show how real Jesus is through your words and deeds."
During the science commencement ceremony on May 13, Patrick Lencioni, co-founder of the Amazing Parish Conferences and author of The Better Pastor, received an honorary doctorate of business science for his work fostering "the ministry of management" and helping the Catholic Church more effectively carry out the mission entrusted to her by Christ. He began his speech by praising the University and it's faculty.
"I have learned more in my life from faculty members and graduates of Franciscan than from any other institution in the world," said Lencioni. "I believe Franciscan University of Steubenville is the best university in the United States of America, if not the world."
Lencioni focused much of his message around the threatened nature of truth, which has been subject to denial and relativistic claims by many universities throughout the country.
"Truth, according to the popular culture, especially on most college campuses, is whatever you want it to be," he said. "This concept of moral relativism—which I learned from a graduate of this school—is truly not good for our world, and really is nothing but cruelty masked as open mindedness. As Pope Benedict said, it's the greatest challenge of our time."
He added that it is ironic that truth is so rejected on college campuses, because, "We come to the university to pursue truth—that's why we're here."
Lencioni went on to warn about the trap of pride that many new college graduates fall into, proposing Franciscan graduates adopt an attitude of gratitude and responsibility.
"Young people come out of their graduation ceremonies feeling like the world is their oyster. A few months later, you come to the conclusion you feel more like a sardine. Let me propose to you that instead of pride being your primary emotion today, let's make it gratitude and responsibility."
He concluded his speech by urging graduates to seek the truth of Christ over worldly happiness and to share that truth with all they encounter.
"Know that the world, as much as ever, needs you to go out and bring them this truth," said Lencioni. "You're leaving here with a mission that no company, no organization, can ever match. Please fulfill that mission."
During the afternoon arts ceremony, Dr. Ryan T. Anderson of the Heritage Foundation received an honorary doctorate of humanities for his persuasive defense of Catholic values in the public square as well as his role as a religious freedom expert. Building off Lencioni's message to seek and defend truth, Anderson called on students to defend their Catholic faith and advocate for truth in every aspect of their lives.
"We have it on good authority that each of us has a calling in imitation of the Master who gave his life bearing witness to the truth," he said. "We will face this challenge everywhere our lives take us: in government service, in the marketplace, within our families, and in service to the Church. And we must be prepared to defend truth as never before."
He noted how Franciscan graduates are uniquely qualified to face the aggressively secular message espoused in society because of the foundation they've received during their time in Steubenville.
"When faced with secularist ideologies, we have the responsibility to show the world the harmony of faith and reason. When faced with modern relativism, we have the obligation to propose with the apostle Paul the more excellent way. And this only intensifies as you graduate today and enter a world that is simultaneously hungry for and resistant to your message. Franciscan has given you the tools to continue learning for a lifetime—and to share that knowledge with your neighbors, desperately in need of the truth, even when they don't realize it."
Anderson concluded by reminding graduates of their ultimate purpose in life.
"If you remember nothing else that I said today, remember this: Important as academic and professional success may be, God doesn't ask you to be successful according to worldly standards, he asks you to be faithful. The only success of ultimate importance is holiness. The only real tragedy in life is not to have been a saint."
As a reminder of the power of prayer and the intercession of the Blessed Mother, each member of the graduating class received a special Our Lady of Fatima rosary. The rosaries, made by the Franciscan TOR sisters, were blessed by University President Father Sean O. Sheridan, TOR, during the ceremony.
This year's top 10 home states for the Class of 2017 include Ohio, Pennsylvania, California, Virginia, New York, Texas, Illinois, Maryland, Michigan, and Indiana. The Class of 2017's top 10 majors are theology, nursing, education, catechetics, psychology, management, communication arts, philosophy, social work, and English.
Several faculty members formally received promotions during the ceremonies. They are:
Dr. Tiffany Boury, associate professor, Department of Education;
Dr. Edward Kovach, professor, Department of Computer Science;
Dr. Joseph Pathakamuri, professor, Department of Biology;
Dr. Milo Milburn, professor, Department of Clinical Mental Health Counseling;
Father Daniel Pattee, TOR, professor, Department of Theology;
Dr. James Pauley, professor, Department of Theology;
Dr. Benjamin Wiker, professor, Department of Political Science.
View the Commencement Events:
[rhc_upcoming_events template='widget_upcoming_events_a.php' number="2″ date_format="dddd MMMM d, yyyy" feed="0″ showimage='1′ words='20' date_compare=">" date="-1000000 days" order="DSC" post_type='events' taxonomy="calendar" terms="news"]