Students Recount Their Pilgrimage to See the Pope
The long bus trip, long walk, long wait, long Mass, and long return, were all grace-filled experiences.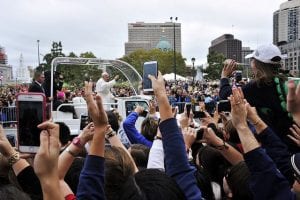 STEUBENVILLE, OH— More than 220 Franciscan University students went on a pilgrimage Sunday, September 27, to Philadelphia to see Pope Francis and attend the last Mass of his first visit to the United States.
After a brief prayer service in Christ the King Chapel, the students boarded four buses shortly after midnight. Each bus was named after a Franciscan patron saint: St. Francis, St. Clare, St. Louis, and St. Elizabeth. Two student captains led each bus, and Student Life and Pastoral Care and Evangelization staff members Father Gregory Plow, TOR, Father Nathan Malavolti, TOR, Sister Anna Rose Ciarrone, TOR, and Sister Sarah Rose Dent, TOR, accompanied them.
After a six-hour bus trip, the students disembarked by Citizens Bank Park, more than four miles from the Benjamin Franklin Parkway, the site of the papal Mass.
---
Photos on Facebook. | Short video of the experience
---
Maria Brandell, a freshman theology and catechetics major from Cincinnati, Ohio, said the long walk to the Mass site turned the outing into a true pilgrimage.
"I feel like God is challenging, leading, every single person here," she said. "Catholicism isn't dead. I think this is a really beautiful witness that so many people come together to show their support for Pope Francis."
After a quick stop at St. Rita of Cascia Catholic Church and a blessing from Augustinian priest, Father Joe Genito, OSA, the students continued their walk down Broad Street. They found places to sit in Aviator Park along the barricade and began the long wait for the 4:00 p.m. Mass, passing the time by sleeping, working on homework, meeting other pilgrims, or buying food from street vendors.
"Just being in the same city as Pope Francis is a blessing," said Zach Willi, a graduate philosophy student from Peoria, Illinois. "I'm really here to stand up for marriage, and the people who are present here prove that there are still people willing to stand up for the dignity and the sanctity of the family in spite of what our federal legislation has decided."
Beginning near one of the 40 Jumbotrons scattered throughout the venue, the papal parade brought the crowd of an estimated 860,000 people to their feet. The students joined in welcoming the pope with cries of "Papa Francisco!"
While the Holy Father celebrated Mass, the students watched on the Jumbotron.
Pavel Federoff, a senior history major from Tucson, Arizona, began the long walk back to the bus saying, "There's a sobriety of spirit and still a level of reverence that everyone has. You don't really get to turn into a tourist. You genuinely realize you're a pilgrim."
Under a light drizzle, the buses returned to Franciscan University at 4:15 a.m., just in time for breakfast and Monday morning classes.
[rhc_upcoming_events template='widget_upcoming_events_a.php' number="2″ date_format="dddd MMMM d, yyyy" feed="0″ showimage='1′ words='20' date_compare=">" date="-1000000 days" order="DSC" post_type='events' taxonomy="calendar" terms="news"]