The Holy Spirit at Work through Mary
Power and Purpose Conference Kicks Off Franciscan University of Steubenville's 2015 Summer Conference Season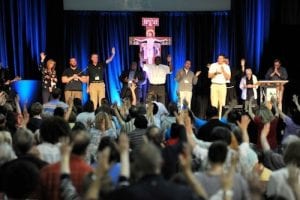 STEUBENVILLE, OHIO—"No matter how dark it gets," bellowed Deacon Harold Burke-Sivers at the June 5-7, 2015, Power and Purpose Conference at Franciscan University of Steubenville, "the light of the new Pentecost kindled by the children of Mary will grow ever brighter to set this world ablaze with the fire of the Holy Spirit, the light of Christ!"
Thunderous applause and cheering met his declaration as nearly 800 people from 28 states and Canada rose from their seats to express their agreement.
Deacon Burke-Sivers, co-host of several popular series on EWTN, was one of 12 speakers to lead talks and workshops on Divine Mercy, the power of the Holy Spirit, and the significance of the Holy Spirit's work through Mary.
The conference resonated with the cry from Father Michael Gaitley, MIC, author of 33 Days to Morning Glory, who echoed the words of Pope Francis that "Now is the time for mercy," and with the insistence of other conference speakers that the Holy Spirit is at work in the world today through Mary. Spiritual warfare was also a prevailing topic of the conference, as well as methods to become stronger disciples and better fighters for Christ.
---
View the full photo galleries: Facebook | Flickr
---
Father Gaitley shared the truth about God's mercy and his own struggles with trusting in God when he felt lost and weak. He said that no matter what happens in his life, he has learned to keep repeating, "Jesus, I trust in you." He added, "God doesn't love us because we're so good but because he's so good. And the more weak, broken, and sinful we are—this is the scandal of the Gospel—the more weak, broken, and sinful we are, the more his merciful love goes out to us."
To illustrate that mercy is for the weakest and most broken, Father Gaitley told the story of his father, a fallen-away Catholic who had a serious form of cancer and was in despair. Father Gaitley began to pray to Mary for his father, and he not only ended up coming back to the Church but also was cured from cancer. While his father's cancer has since returned, Father Gaitley said the spiritual healing remained.
Father Gaitley urged the crowd to pray the 33-day consecration to Mary, stressing that it is the "quickest, easiest way to become a saint" because the Blessed Mother will always lead us straight to Christ's mercy, to his unwavering love.
In her talk, "Discipleship and the Call of the Holy Spirit to Those Who Will Listen," Sister Ann Shields, SGL, author of More of the Holy Spirit, stressed the importance of becoming disciples of Christ. "We're in an age where we need disciples. It's not an option. If you're baptized, if you're confirmed, it's an obligation." She told the crowd, "You need to make your decisions about what it will take for you to be, more clearly, disciples of Christ."
Sister Shields' message reflected Father Gaitley's call to seek out Divine Mercy. While we do need to repent and put effort into becoming holier, she said, we do not have to "earn" God's mercy. We just have to ask for it. "The Father cries out for us to respond to him," she said, reminding attendees that God wants a relationship with each of us and wants every person to be a vessel bringing him to others who also need his mercy.
In his dynamic talk, "An Apocalyptic Awakening: The Message of the Blessed Virgin Mary for Our World," which was preceded by the conference participants praying the Rosary together, Deacon Burke-Sivers spoke of the "confrontation between the Church and the anti-Church, the Gospel and the anti-Gospel, the Christ and the anti-Christ." We must vigilantly pray to Mary for the strength to face imminent tribulations, he explained, since Mary is the greatest saint in the history of the Church.
Deacon Burke-Sivers had conference attendees on the edge of their seats as he held up a large, bulky rosary made of bullets. "Why do I have this rosary?" he cried, "Because every time you pray the Rosary, you put a bullet through Satan's heart!" As the crowd applauded, he added, "It's a whole different experience meditating on the mysteries of Jesus Christ with a bullet in your hand."
Paul George, full-time missionary and co-founder of Adore Ministries, began his talk, "Overshadowed by the Power of the Most High," comparing modern-day Catholics to the Israelites journeying in the desert, totally lost until they turned to God and allowed God to overshadow them. Similarly, he said, Catholics today rely on themselves instead of on God, which destroys their ability to trust. It is not until everything fails that we cry out to God, but we need to remember that we must move with God at all times, not just in hard times. "When God moves," said George, "we move. When God doesn't move, we don't move."
Approaching the statue of the Blessed Mother on stage, George explained that Mary has the power to move us to Jesus. He shared the story of a seemingly fruitless time of praying with a troubled man who yearned to be set free from pornography and an abusive past. As they prayed, suddenly the young man said he felt and saw in his mind Mary carrying him to the feet of Jesus, the place he was most afraid to go—and he was set free. Mary, said George, is active now. "The overshadowing power of God wants to encounter every person on the planet," he said, and we can turn to Mary to make that happen.
Following George's keynote talk, Father Shawn Roberson, TOR, director of Franciscan University's Priestly Discernment Program, led a eucharistic Holy Hour and healing service.
Throughout the conference, participants were given the opportunity to attend Mass each day and to receive the sacrament of reconciliation. Additionally, there was a book signing and speaker meet-and-greet featuring several of the keynote speakers along with social gatherings outside the fieldhouse.
On Sunday morning, people lined up to pray and offer intentions at the foot of the National Pilgrim Virgin Statue of Our Lady of Fatima in Finnegan Fieldhouse. The statue was given to the United States by the bishop of Fatima after it was blessed by Pope Paul VI in 1967.
Two Saturday workshops focused on the Blessed Virgin Mary's presence in the world today. Father Roberson led one of the workshops, "Mary, Spouse of the Spirit: Blessing for Our Time." "I have seen it," he said, sharing several stories of Mary's influence. "Her purity defeats the darkness of sin. Her purity defeats the darkness of hell."
Deacon Baldwin Powell of the Diocese of Montego Bay, Jamaica, led another workshop, "Mary, Full of Grace: Temple of the Holy Spirit," which focused on the relationship between Mary and the Holy Spirit. He said "the Holy Spirit's action in the soul of Mary" empowered her throughout her life, giving her the grace to say yes to God's will and the strength to endure the suffering at the foot of the cross. Since we are also temples of the Holy Spirit, he said, we can have that peace and power from the Holy Spirit too.
Cindy Augustine and Robin Lunacek from Batavia, Illinois, have come to the Power and Purpose Conference (previously known as the Catholic Charismatic Conference) for the past eight years. Lunacek said the conference helps them to be better ministers for Light of the World evangelization in their parish. "We come here, and we feel like we've been rejuvenated and God's just really poured himself into us and given us what we need. You can't give to others what you don't have. We get that here."
Larry and Cissie Cullivan of Williamsburg, Virginia, travelled to the conference with their longtime friends Deb and John Fuller from Boston, Massachusetts, inspired by Larry's enriching experience at a Steubenville conference last year.
Both couples agreed that the presence of the Holy Spirit permeated the conference. "It was powerful to be amongst friends trying to seek the same purpose—a closer and closer relationship with Jesus Christ," said John. "You become stronger because the testimonies of these speakers prove that prayer is everything. It's proof of the Holy Spirit working," said Larry.
Now in its 40th year, Franciscan University of Steubenville Summer Conferences began in 1975 with a single conference attended by 600 priests. This year, Franciscan University will offer 6 adult, 2 young adult, and 21 youth conferences in 11 states and 2 Canadian provinces that will reach over 53,000 people. Visit www.steubenvilleconferences.com for a complete list of conferences.
View Photos from the Conference:
[rhc_upcoming_events template='widget_upcoming_events_a.php' number="2″ date_format="dddd MMMM d, yyyy" feed="0″ showimage='1′ words='20' date_compare=">" date="-1000000 days" order="DSC" post_type='events' taxonomy="calendar" terms="news"]